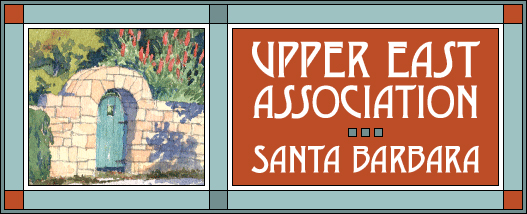 Welcome to the website of the Upper East Association, representing the beautiful and historic Upper East neighborhood of Santa Barbara, CA.
As of July 2018 the Upper East Association's membership comprises over 240 households. See the Membership page for membership information and an application form.
---
RV Parking or the Oversize Vehicle Parking Ordinance
As many of you may know, the UEA Board has been working with City leaders to obtain a new ordinance that will address our neighborhood's concern about oversize vehicles parking within our neighborhood. The Santa Barbara City Council directed the City Attorney's office and the Police Department to begin implementation of the previously approved ordinance as of September 5, 2017.

That ordinance process now allows citizens to report such potential violations directly to the Police Department. Here is a link to information about the ordinance.
The UEA is still providing a separate incident reporting tool that we encourage members to use to copy us on your reports to the City or if you have other concerns on this subject. Please click here to access the Incident Report. It's okay if more than one member reports the same vehicle; we will eliminate duplicates as we compile the data.