About Us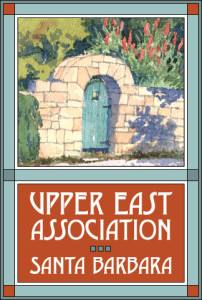 The Upper East of Santa Barbara is a lovely and historic neighborhood.  The Upper East Association's goal is to keep it that way.  We serve three key roles:
Monitor local government initiatives affecting the Upper East and keep our members informed.

Share the Upper East perspective with local government officials.

Promote activities to beautify the neighborhood and enhance the quality of life of our residents.
Issues we've focused on during 2015 have included the revised hedge-height ordinance, the new building at Mission & State Streets, Safe Passage (improving safety in the Mission Canyon corridor), the drought, and the urban forest.  We've helped reunite several dogs and a set of keys with their worried owners.
Each month we send out an email newsletter keeping our 260+ member households informed about coming events and neighborhood news. It usually also includes our president Fred Sweeney's musings while walking his dog Mo and an item about Upper East history.
Each fall we distribute a printed newsletter to every single-family residence and every owner-occupied condo and multi-family residence in the neighborhood.  This newsletter is our primary recruiting vehicle, an attempt to reach the ~460 households who aren't yet members.
Each November we put on a social event for the membership, with snacks, drinks, a speaker, and a brief business meeting.
Finally, we maintain this website.
If you're a resident of the Upper East or own property here, we'd love to have you join the Association.  Click for an application form.